4 Astounding Ways Express Transport Can Make Life Easier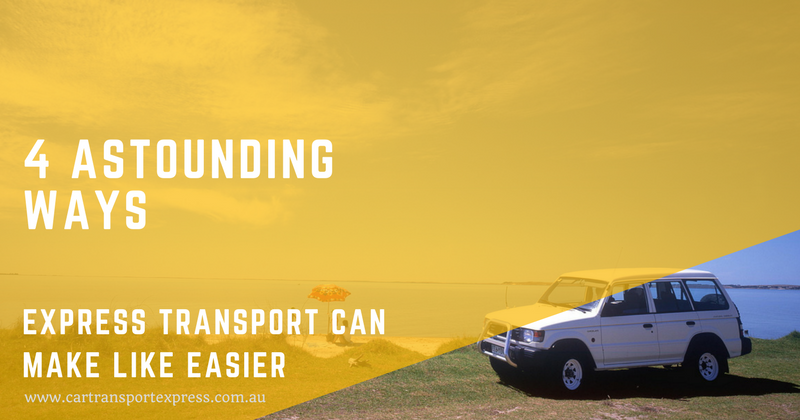 Having a new car can be one of the most exciting events of your life. Imagine the breathless sceneries you could travel to, the places you can go without thinking of having to wait at a bus stop and just feeling your personal space when you're going to work. As exciting as it may seem, it can be a hassle once you start moving from one place to another. Aside from the fact that your car can't handle transporting all your items, you risk of damaging your precious vehicles too. That's why we rely on express transport when it comes to shipping our vehicles and items to a new location. Here how transport can make your life easier and better.
Zero added mileage
Say you live in Melbourne but your work is in Sydney, it can be a hassle going back home just to get your car during weekends to have a holiday or joyride. Not only it's a hassle moving back and forth, but it's costly for you too since you have to spend money for the gas, food, and accommodation. Good thing express transport is here to cater your need. Just give them a call and they can ship your car (and other items) to your destination.
Saves time
Being a working adult means your time is limited and you can hardly do all the things you want. Why waste the time and effort moving to a new place when you can hire someone who can take care of your shipping for you? It's better to avail a transport car service since it lets you maximize your time in moving while doing the important things that matter to you.

Focus on the job
Instead of wasting your time and attention with moving, you can now focus on important things like managing your business or beating the deadline of the work your boss gave you yesterday. Take advantage of the services offered today and make other productive things you can do while waiting. Transport services will save you from skipping your work and missing your deadlines. You can look forward to driving your car the next time you get to work. The vehicle industry continues to make things easier for clients looking to ship their cars.

Spend Some Time With Your Loved Ones
Last but not the least, you get to spend some bonding time with your family or friends. You don't have to worry about moving your car and things to your new apartment when your express transport service provider can do it for you. Spend some time doing leisure and create special memories with your loved ones with ease. Car transport services make it easier for you to move your things while you're on the go.